Standard Life SME 2014
17th August 2015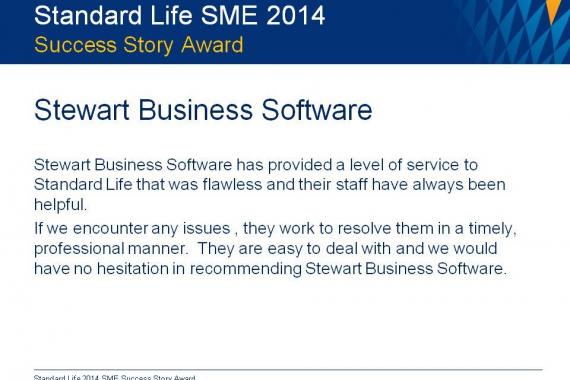 Standard Life SME 2014
9th June 2015

Standard Life announced their winners of their new awards last month which recognise the contribution that local SMEs make to the success of Standard Life. We are delighted to announce that Stewart Business Software was one of their winners.
A spokesperson from Standard Life said "When we buy from suppliers, we contribute to our economy and community, helping to create more jobs and opportunities. Congratulations to all of this year's winners who made a key contribution to Standard Life in 2014."
Neil Stewart, Managing Director of Stewart Business Software said "SBS are proud to receive this Award in recognition that our day to day support of customers and their IT departments is on time, relevant and valued."
Stewart Business Software have been providing Global Insurance and Risk Management systems to corporates and local authorities for over 30 years.